Priia Bronzer
Essential Cover Loose Mineral Foundation™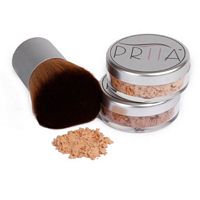 We searched for a superior product at a better price and we found...Priia
What did we look for as we looked for a superior line? No additives that irritate rosacea or acne prone skin. No extreme shine or matte. Good price points to be budget pleasing. Easy to use and easy to wear. We found Priia.
Achieve the healthy and well-rested look of an exotic, tropical vacation without the hassles of security checks, credit card debt and sun damage!
Vacation In A Jar™ is soft and matte without the typical 'orangey' glitter look of traditional bronzers. This bronzer contains soothing Kosher Rice Powder for cooling the skin and Zinc Oxide for its anti-inflammatory properties. Beautiful, neutral bronze tones caress and enhance your complexion. Vacation In A Jar™ can be used on the face and body and is suitable for all skin tones.
100% VEGAN & GLUTEN-FREE
Check it out, indulge your skin. Try Vacation In A Jar™ today!
"This is my new favorite product! It gives a great healthy glow and can really be used on all skin tones light, medium and dark!!"JC
Priia Our favorite mineral makeup. As good as the others, half the price!