LightStim LED Light Therapy uses light to create an anti-aging, Rosacea calming, or acne reduction effects on the skin. It is quickly becoming recognized as one of the safest, fastest, and most affordable ways to achieve younger, more radiant looking skin. It's non-invasive, safe for all skin types, builds collagen and elastin, and uses no lasers, injections, chemicals or surgery!
20 minutes a day in your home - Simple, Easy, and Non-invasive LightStim is the LEADER in LED Light Therapy
Retail $349, Our price $299 You must call 888-561-8068 to get this price, we are not able to offer this price via our internet ordering system!
---
LightStim Rosacea Control
LightStim for Rosaca is safe, non-invasive, requires no surgery, no harsh chemicals, no lasers, no painful treatments, and there is no downtime or recovery time. Your Rosacea Light may help with the reduction of redness, small bumps, blemishes and smoothing of skin tone. When used in conjunction with high quality skin care products, a soothing effect can be created.
The LightStim Rosacea Light mixes medical-grade, blue LED lights along with red and infrared LED lights. There are a total of 72 high-grade, high-output individual lights encompassing 4 varying wavelengths between 450nm and 850nm.
---
LightStim Anti-Aging
The combination of amber, red and infrared LED light is the most powerful and effective way to create collagen and elastin. Fine lines and wrinkles have everything to do with a lack of collagen and elastin. The LightStim Anti-Aging LED lights penetrate into the dermis layer of the skin, energizing the cells, thereby helping to create collagen and elastin, much the same as when you were younger. Collagen helps to plump up the skin, while elastin helps to make the skin more firm, thus diminishing fine lines and wrinkles. It's actually that simple!
The Anti-Aging Light may help to:
Smooth and diminish fine lines and wrinkles
Reduce pore size
Increase the skin's moisture retention & elasticity
Improve sun-damaged skin
Firm and tone aged or tired skin
Smooth the texture of the skin
Balance uneven skin tone
Restore skin's youthful radiance and appearance
Lighten age spots, sunspots and discoloration
Soften rough dry skin
Tighten sunken or saggy cheeks
Decrease puffiness around eyes
---
LightStim Acne Control
The combination of red and blue LED light is a documented therapy for the control of acne. LightStim brings to the forefront a NEW, powerful combination of red, infrared and medical grade blue LED lights that not only kill the acne causing bacteria, but reduce inflammation and help to prevent future breakouts.
This is the Light that Dermatologists and skin care specialists recommend to help diminish and control acne. Perfect for those who want to take a proactive stride towards optimum acne skin care. Our customers have been enjoying the benefits of this technology for over 5 years with great results. The beauty of the LightStim is you can use it in the privacy of your own home, while watching TV, reading or working.
What can the Acne Light do for You?
The Acne Light may help to:
Kill acne causing bacteria
Heal existing acne
Reduce inflammation
Prevent breakouts
Minimize acne scarring
Shrink enlarged pores
Great alternative to oral medications
---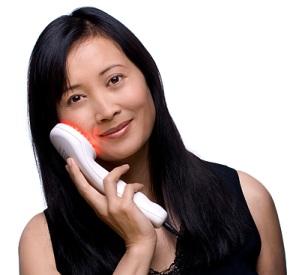 Made In the USA!
LightStim Lights are manufactured in Southern California- 100% made in the U.S.A.